Podcast: Play in new window | Download
Subscribe: Apple Podcasts | RSS | More
I don't know when St. Patrick's Day turned from a sweet celebration of a wonderful culture into an excuse for binge drinking  (a Guinness holiday instead of a Hallmark one?) , but I think it was at some point in my lifetime. Before it used to be just about wearing green, running in the almost Spring grass looking for four-leaf clovers, eating Lucky Charms, drinking Shamrock Shakes, and of course, watching wonderful family films like Leprechaun.
But seriously, St. Patrick's Day is flush with weird legends and myths of the patron saint of Ireland. The story of St. Patrick is that he drove the snakes out of Ireland (metaphor for Pagans), Christianized the country, and he used the Shamrock to help explain the Holy Trinity of the Father, Son, and Holy Spirit.
The Irish culture has plenty of fun superstitions, but luck of the Irish, pinching people on St. Patrick's Day, and turning their rivers green aren't any of them. Join us for a conversation on where all our silly St. Patrick's Day traditions come from and some of the real history of St. Patrick's Day as well as legends and myths about the Emerald Isle's patron saint himself.
One of the strange stories we talk about in the show is this weird shadow that's cast by Saint Patrick at this New Jersey church. Sure, it's just a coincidence… OR IS IT?!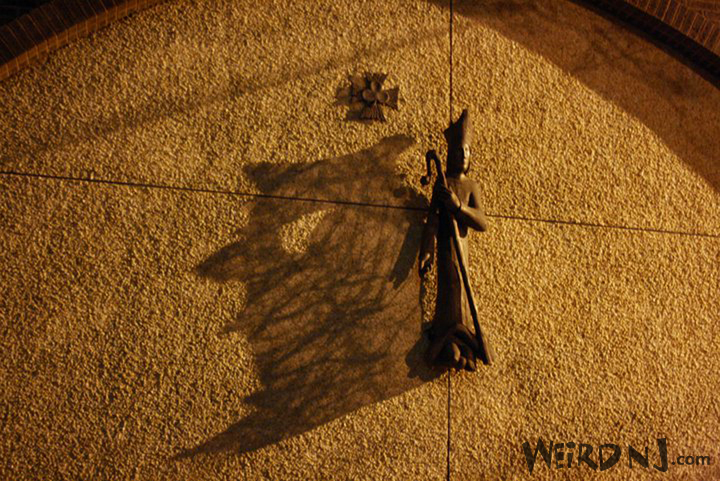 It's a good time as any to bring out one of our favorite Irish songs done by an amazing Irish band. Thin Lizzy wasn't in love with getting famous through an Irish folk song, but their version of "Whiskey In The Jar" made it a Top 40 hit all over the world. We do an acoustic guitar and violin version of it that you can request at the next Sunspot Acoustic Duo show or See You On The Other Side live event!
As I was goin' over
The Cork and Kerry Mountains
I saw Captain Farrell
And his money, he was countin'
I first produced my pistol
And then produced my rapier
I said, "Stand and deliver or the devil he may take ya"
Mush-a ring dum-a do dum-a da
Whack for my daddy-o.
Whack for my daddy-o
There's whiskey in the jar-o
I took all of his money
And it was a pretty penny
I took all of his money,
Yeah, and I brought it home to Molly
She swore that she loved me,
No, never would she leave me
But the devil take that woman,
Yeah, for you know she tricked me easy
Mush-a ring dum-a do dum-a da
Whack for my daddy-o.
Whack for my daddy-o
There's whiskey in the jar
Being drunk and weary
I went to Molly's chamber
Takin' Molly with me
But I never knew the danger
For about six or maybe seven,
Yeah, in walked Captain Farrell
I jumped up, fired my pistols
And I shot him with both barrels
Mush-a ring dum-a do dum-a da
Whack for my daddy-o.
Whack for my daddy-o
There's whiskey in the jar
Now some men like a fishin'
But some men like the fowlin'
Some men like to hear,
To hear the cannonball roarin'
Me, I like sleepin',
'Specially in my Molly's chamber
But here I am in prison,
Here I am with a ball and chain, yeah
Mush-a ring dum-a do dum-a da
Whack for my daddy-o.
Whack for my daddy-o
There's whiskey in the jar-o