This blogpost is adapted from a podcast interview we did with author, Nick Redfern. In the podcast we talk extensively about tulpas or thoughtforms come to life. And you can listen to the episode if you'd like to learn more. Also, if you're interested in watching me tell the whole story on video, head down to the bottom of this post.
So, while taking a trip to the UK and Ireland in 2008, I was reading Nick Redfern's book, Three Men Seeking Monsters, which was about Nick and his friends going to the locations of legendary paranormal sightings across Britain, listening to punk rock, and drinking prodigious amounts of ale. That was the kind of trip that I could get behind and it was a fun book to read while we were on our own road trip across the island.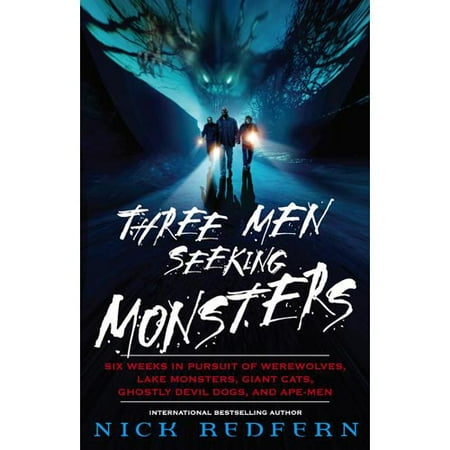 It was a terrifying time for us because I was just about to quit my day job working in software and I wanted to go for it as a musician. My wife, Chris, (girlfriend at the time) was contemplating leaving her career as a music teacher as well. So we were a couple of people who were planning on changing our lives completely.
One of the things that my wife did to lighten our apprehensive moods on the trip was secretly bring along a set of sticky googly eyes and she'd put them in different places (like on the Nick Redfern book) every morning to make us laugh. It was all based around this Saturday Night Live sketch with Christopher Walken where he played a gardener who was scared of plants. So, he's stick googly eyes on them so he could look them in the eye. It was our favorite skit and we laughed that we'd remember these little jokes if our relationship got rocky, so we wanted to save them "for the hard times".
So, while we're in Ireland seeing the sites, we visit the Blarney Castle right outside of Cork. Now, when you visit the Castle of Blarney, you have to go see The Blarney Stone. The legend is that anyone who kisses the Blarney Stone will get the "gift of gab" and they offically call it "The Stone of Eloquence" because it's supposed to make you more persuasive and be able to tell lies and have other people enjoy hearing it! And I know that sounds bad right before I tell a crazy story.
There are many supposed origins of this urban legend, but my favorite involves a witch who was saved from being executed by Cormac McCarthy, who was the lord of the castle at the time. She supposedly granted him this special gift of eloquence, of being able to lie and exaggerate and persuade, becuase he saved her life.
Surrounding the castle is a beautiful park where there are big rock formations they call a "Rock Close", they have some old caves they call Druid's Cave and Witch's Kitchen. There's some fun folklore about how the witch is trapped in a stone during the day and only comes out at night, but sometimes you can still see the embers of her fire from the night before burning in the kitchen.
But the most interesting section is the Wishing Stairs, a stairway where you're supposed to walk up and down it backwards with your eyes closed and focus on a wish and if you succeed in doing so, your wish will come true within a year.
The following paragraphs are taken directly from my journal (which still has googly eyes on it) and I wrote them down as soon as we got to our hotel that night…
We weren't expecting much but it was awesome. The lines weren't too bad and it was a little overcast, but the temperature was perfect. The pathways were so wind-y and skinny, it was a long trip for us to get to the top of the battlements, so I can just imagine what it's like for elderly people who take the journey.
Kissing the Blarney Stone was way more of a rush than we expected because you have to actually lean back really far over the edge and someone holds you while you kiss it.You're far enough back though, so it's scary. That was fun and the castle was magnificent, but the Rock Close was the real treat. We waled along there by the Druid Cricle and up and down the Wishing Stairs (where I wished for financial independence because I was planning on quitting my day job and Chris must have wished something about her cats, but more on that later.)
So, we walked away from the Rock Close and to the gardens around the castle. We were completely alone and sat at a bench overlooking a field through the foliage. I told Chris about the Cormons in Nick Redfern's book because I had just finished it that morning.
In his book, Redfern talks about interviewing an old witch, who told him about these creatures called Cormons. They were summoned to our world centuries ago by some British magicians and Irish occultists who were looking to protect the Isles from foreign marauders like the Vikings. These Cormons were supposed to appear as the darkest fears of the attackers (usually with glowing red eyes) and defend the island. But the magicians and the occultists were slaughtered and the Cormons were free to roam the land and feed on our fearful emotions. He speculated that UFOs, ghost sightings, and other monsters were these Cormons who use our fear as a pathway from their dimension into ours.
I was telling Chris about the Cormons and what an interesting idea I thought it was and she said "How scary would it be if the Big Black Wolf from The Never-Ending Story appeared right now?"
Just then a shape appeared in the pathway a hundred yards from us. I took a couple of blurry pictures and adrenaline rushed through our veins. It looked like it could be a wolf from the distance, but we approached it slowly and it was the form of a black cat that jumped into the bushes before we got a good look at it.
We never really saw its eyes but looked around for it where it jumped to and didn't see anything. We couldn't believe what we'd just seen after what we were talking about, it couldn't have been written any better.
Chris said that it might have been because of the wish she made when she was on the Wishing Stairs. I thought she might have wished that our black cat, Mr. Spock, was okay and that's why a black cat appeared. But the shape looked like it was a wolf at first, which made it so we just couldn't believe it.
We were so grateful for the experience that we left googly eyes on a fern at the Druids sacrificial altar that was in the garden as an offering for the Blarney Witch to thank her. We thought she'd appreciate giving her our jokes "for the hard times". We had a delightful lunch by the horses and took the Woodland Walk, saw Faeries' Glen and the Horse's Graveyard, but it's the Shadow Cat of Blarney that's the story we will always remember.
A few years later, my wife told me that when she was on the Wishing Steps, she wished for a sign for her own future. And when she saw the cat, she thought was a miracle, because she'd been offered a position at a cat specialty clinic in town just before we left. She was desperate to find any kind of sign as to what to do with her life and there it was.
Seeing a mysterious shadowy animal while on the trail was one thing, but us both seeing something different was another. And her seeing the Shadow Cat of Blarney helped her make her final decision.